JobX – Digital Job Profiles
A must-have for employers to support Return-to-Work, injury prevention, candidate selection, and health and safety practices.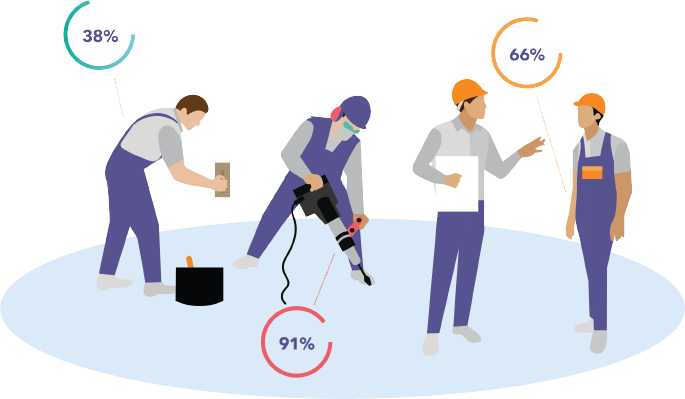 Every employer needs accurate Job Analyses, yet few have them.
The reality is, they cost too much, get out of date quickly, and are disruptive when completed by third parties. By leveraging JobX Digital Job Profiles (DJPs), employers can transform & automate how a comprehensive Job Analysis is completed and maintained in a fast, accurate, and cost-effective way.
No hardware. No tracking devices.
JobX is a cloud-based application designed to assess, prevent and resolve workplace injury at scale.
Search Over 50,000 Job Titles
JobX provides employers pre-defined job analysis for every industry and every job, freeing up time to focus resources on developing intervention strategies instead of data collection.
Address The Demands Of Every Job
Each Digital Job Profile contains the essential physical, psychosocial, and cognitive demands of that job. They can then be shared with various stakeholders, supporting decisions with a standardized, visual data set that summarizes all the details of the job.
Claims managers can utilize JobX Digital Job Profiles to more effectively manage claims, reducing the amount of time employees are off.
Customize Job Profiles. Build A Database.
Customizations can be made to the Digital Job Profile to meet the specific demands of the job. increasing the accuracy and defensibility of your ergonomics, prevention and return to work programs. Pictures and videos can be added to each Digital Job Profile for specific functions and tasks. Unlock even more when you create a database for internal or external claim teams to facilitate seamless communication with healthcare teams for return-to-work.
Flag Risk With Artificial Intelligence
Uploaded videos can be analyzed using AI for advanced kinematics. The AI analytics can also be used for on the job training of individuals, highlighting any risky movement. Instruction in improved techniques can then reduce injury risk due to poor mechanics.
Detailed Features Breakdown: